By Michael Pearsall, P.Eng., CVS, CVM, FEC and Rahul Nagalkar, CVS
As promised last time, I would like to turn our attention to the Value in transit projects with the help of guest columnist Rahul Nagalkar, CVS.
Transportation is multi-faceted and to realize the full value for society, we need to look at the entire range of value from individuals to major carriers. A very important part of this range of value is in the growing world of transit. To illustrate how a successful value program can thrive in transit, we are going to look in detail at the Sound Transit Value Engineering program.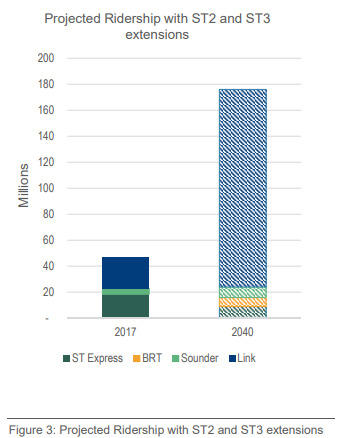 Sound Transit (ST) plans, builds and operates a regional mass transit system that connects people to their communities and jobs throughout urban areas near Seattle of King, Pierce and Snohomish counties in the state of Washington. The Central Puget Sound Regional Transit Authority – better known as Sound Transit – was created by the Washington State legislature. In 1996, voters in the region approved implementation of the Sound Move plan, Sound Transit 2 in 2008 and Sound Transit 3 in 2016. Since that time, Sound Transit has grown from a planning agency to one that carried 44.6 million boardings in 2018 and is estimated to carry 175.4 million by 2041 on their trains and buses. To accomplish these targets, there is a need to continue building extensions to light rail, transit centers, stations and other transportation infrastructure.
ST Express bus service began in 1999, was joined by Sounder commuter rail in 2000 and light rail started with Tacoma Link in 2003 (followed by Central Link in 2009 and University Link light rail began service in 2016). The light rail system is planned to more than double to 116 miles with over 80 stations expanding from Seattle north, south, east and west. This presents challenges for ST as it delivers multiple complex projects to the region. The Sound Transit Value Management (VM)/Value Engineering (VE) program has played a key role in delivering this complex capital program worth over $80 billion dollars.
Sound Transit has been conducting VE studies since the beginning of the Agency's design program in 1998. In 2011, the VE program was formally established under the Project Controls group. VE studies are currently procured through three on-call VE contract consultants.
After successfully implementing VE in design and constructability reviews, VE is now being seen as a problem-solving technique by many project teams. The agency has consistently averaged an ROI of $1:$250 on VE studies. With over 100 ST staff trained in the fundamentals of Value Management, project teams are leveraging the power of VE to ST projects, products and processes.
Examples of VE Use at Sound Transit
VE on Projects – A wide range of VE studies are being done during the early stages of projects to develop and build consensus amongst various project stakeholders (internal and external) and partner agencies. VE studies are conducted at the Alternatives Analysis stage of Conceptual Engineering design phase. For alternative delivery projects like Design-Build, ST uses VE to review the RFQ/RFP documents. The focus here is not design but the how well are ST requirements communicated and are they Industry best practices. The VE team here strives to achieve the right balance between Prescriptive and Performance requirements. VE teams are also tasked with coming up with recommendations for scoring criteria and points. Additionally, VE is used during the Concept validation phase of Design-Build procurement process. The VE team here serves as additional fresh set of eyes that review the highest rank Design-Build proposal against the advertised RFP. This helps the ST team negotiating with the highest rank Design Build (DB) firm to clarify issues though the commitment letter process. Finally, a joint VE study between the selected DB firm and ST is held just before/after release of Notice to Proceed (NTP). This VE study, involves ST (the owner's design team) and the design‐build team. It allows for a collaborative review of many of the Alternative Technical Concepts (ATCs) by all stakeholders that are initially rejected as well as ATCs proposed by firms that are not awarded the contract.
VE on Products – VE studies on ST products have included Customer/User experience when light rail extension projects are physically tied into the existing light rail spine. This involves disruption of service and often means reduced headways and single tracking operations. A VE study that focuses on the user experience can help the agency identify pinch points and develop effective mitigating measures to maintain the user experience. It also helps the agency strategically message this disruption in service ahead of time and educate the user of the upcoming changes. VE studies have also been conducted on ST's guiding documents such as Design Criteria Manual and Engineering Procedures. Plans are in place for conducting a value study on ST's signage and way finding guidance documents.
VE on Process – Finally, VE studies are also conducted on internal agency processes as part of our continuous improvement effort. A recent example has been a VE study focusing on the transfer of assets from Design into Construction to Operations – Build to Operate (BTO). The BTO VE study assessed and made recommendations to the entire process involving assets as they progress through various stages in a project lifecycle with final hand over to ST operations and facilities division. This collaborative BTO VE study also helped foster team building between internal ST departments and development of transition plan for various ST projects. With various light rail extensions opening at the same time, a VE study is also planned to look at how internal resources will be made prioritized and available so that there is no delay caused to project openings and commissioning.
Since its application to VE projects at final design, the VE program within ST has evolved into a problem-solving technique that ST management now uses to help move the project forward. VE is now done on early stages of design and help build a collaborative and consensus building with various project stakeholders. It was for this reason that SAVE International recognized ST's VE program with an award in 2015.
If you have any questions about this article, please contact the following people for information on ST's VE Program:
Adam Strutynski, PMP, PSP, VMA, PMI-RMP
Director – Scheduling, Estimating, Risk & VE
Dept. of Design, Engineering and Construction Management
(206) 689-3308
adam.strutynski@soundtransit.org

Rahul Nagalkar, CVS
Value Engineering Program Manager
Dept. of Design, Engineering and Construction Management
(206) 398-5255
rahul.nagalkar@soundtransit.org

This has just been an overview of the successful VE program at one large transit agency. I know there are many more similar stories out there and we would love to share them here. I personally find it very interesting that the VE programs at my own DOT and at Sound Transit are similar in age and we have evolved to cover a similar range of studies.
In closing, I would like to thank Rahul again for helping author this month's column and also give you another reminder that at the 2019 Value Summit we will have a dedicated track for transportation. However, to make it a full success we need transportation related VE professionals to spread the word for attendance. Mark Gabel of WSDOT has been working hard to make this happen and I cannot continue to thank him enough.
Until the next issue, I would like to continue to encourage any transportation professional out there who would like to share their stories to contact me at mike.pearsall@ontario.ca.
Hope to see you all at the 2019 Value Summit this June 8-11 in Portland, OR!
PS – Mark your calendars for the 2020 Value Summit being held June 6-9, 2020 in New Orleans, LA and start thinking about what you could present in the transportation track there.