By Tammy Dow, CVS – Director of Conferences, SAVE International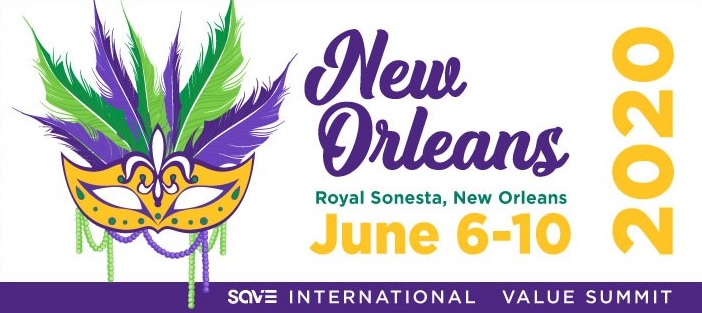 I am excited to share that we received numerous "Interactive Continuing Education" session submissions and a large number of papers, as well as pre- and post-Summit workshop submissions. The 2020 Value Summit planning committee has been working diligently to review and evaluate all of the submissions. We are in the process of finalizing the results of our review and are about to start contacting the chosen presenters/instructors and confirming their attendance.
Based on the response that we have received this year, we are going to have a great 2.5 day program with three very full tracks planned for each day. We are also jazzing up the program this year to fit everything in. Stay tuned to hear about these exciting changes in future articles.
I am also excited to report that the response to our dedicated Transportation track has been strong and we are going to be able to offer one full day for those interested in that specific track. Hats off again to Mark Gabel for all his hard work pulling this track together.
SAVE International takes pride in recognizing the successful contributions of the value profession from industry, government and value analysis providers. Start thinking about a nomination for the 2020 Honors & Awards.
Finally, it is never to early to apply to be a sponsor and/or exhibitor at the 2020 Value Summit. Without sponsors and exhibitors, we cannot provide a quality event at a reasonable cost to our members. More information about our sponsorships and exhibitor opportunities can be found online at www.valuesummit2020.org/sponsorship.
Your enthusiastic and dedicated 2020 Value Summit Planning Committee is all jazzed up for New Orleans. Please plan on being in New Orleans, LA, June 6-10, 2020.